south of the border
well, kind of south of the border. i started it, rather. the waist "shaping" has turned out rather nice & seems to be hitting me in the right places.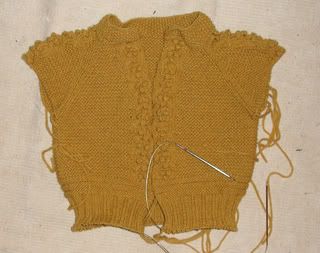 i am loving this pattern. can't foresee any problems that will make this baby unwearable. a nice contrast to my just-finished argyle vest :(
one more mod i'll be doing...i'm making the whole body a bit longer, by doing more rows of the 2 x 2 ribbing. however, since this will be hitting me past my waist and into my hips, i'm going to add some "real" waste shaping from here for a few rows. nothing drastic, maybe 8 stitches. i just think i have wide shoulders & would prefer this sweater to not be super super tight at the waist & hips but be a bit more curvy.