another one finished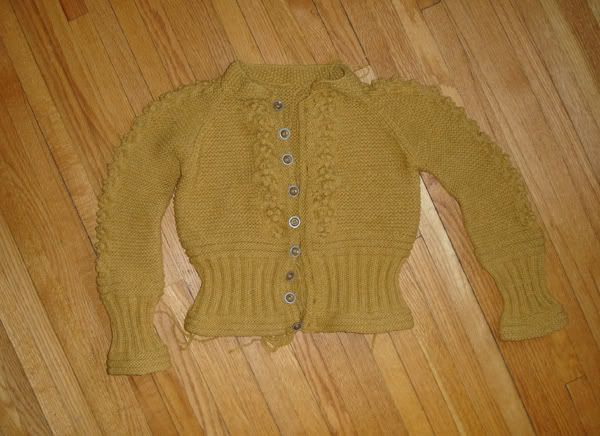 I just have to sew in the ends from sewing on the buttons and then block it. the shape looks really funny, but i promise it looks much cuter on. i just didn't even want to try, as this sweater is very fitted and my belly would probably pop the buttons right now. though when i block it, i'm going to try to make it just a tad bigger all around. here's a close up of the buttons that i spent like and hour and a half picking out at the store: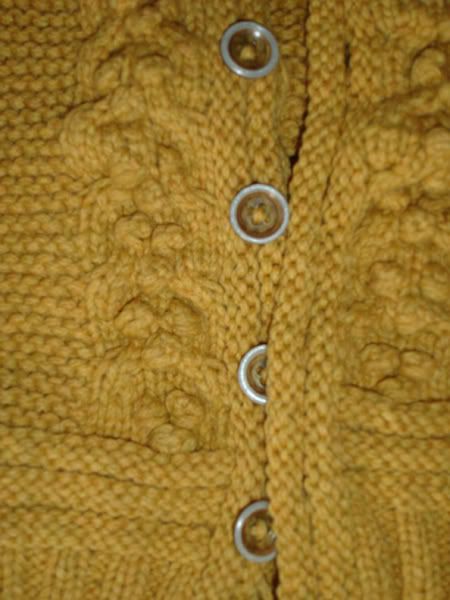 yarn used: rowan cork (discontinued) in "glow," bought off ebay
needle size & gauge: actually got pattern guage on size 7's
pattern modifications: the biggest change i made was probably making the armholes smaller. i did this by increasing fewer stitch in the arm sections during the yoke increases at the beginning of the pattern. though i love it in theory, and it looks great on some, including stephanie herself, big puffy sleeves and big armholes such as this do nothing to flatter my self-consciously linebacker shoulders. i also made the whole body a bit longer, by doing more rows of the 2 x 2 ribbing at the bottom. i also added some shaping in the middle of the ribbing for a few rows. nothing drastic, i maybe increased 8 stitches. i wanted the ribbing section to not be quite as tight, especially considering that by making it longer it would extend over my hips, so i figured a little more room would be a good thing. i didn't do the popular mod of starting the arm ribbing at the elbows but just tried to make the ribbing on the arm and the bodice the same height. all in all, a simple, and fun knit. wish i could afford her new book.